Christmas is less than a month away. We've reached the end of yet another year. At this point in time, we'd look back on our lives & think about what we've achieved, the happy times & not so happy times that we've had, and the things yet to be done. It's also a time to think of renewal & to start a new year with a new perspective & approach to living.


For us, all this is easy. But for a few other unfortunate ones, it takes more than just courage. For them, it is about the struggle of the human spirit, the will to live on, and to reconcile with the past.


If you remember, there was word going around in Kuching about a car accident sometime back in May this year. A car was hit by a lorry.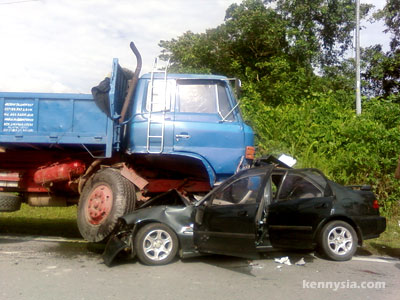 In it, a pregnant mother, her two little girls who were still babies, and her own mother were crushed to death. In the blink of an eye, all 5 lives were taken away on that tragic day.


I didn't realise it then, but this story & pictures were featured on Kenny Sia's blog.

Immediately, our sympathies go out to the mother, the unborn child, and the little girls. But little is known of the other story behind this. The story of the husband who is left behind all alone now is even more heart-wrenching.

He has since decided to go on & start a new life in China. But the pain still remains with him, still as strong and as real as yesterday. If you have the time, please visit his blog here to give him words of encouragement.


What William had to go through reminds us of how puny & insignificant the problems in our lives are. There is nothing that cannot be solved & reconciled. There is nothing more valuable than a human life. And that is why we must always remember, not only on Christmas, but always, to cherish our loved ones, family members & friends.